The Role of Business Architecture in Shaping Software Design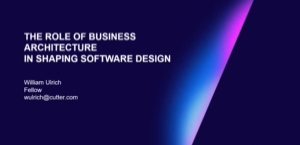 The Role of Business Architecture
in Defining Data Architecture
Inconsistent, incoherent, or nonexistent business vocabularies undercut strategic planning, impact analysis, business design efforts, requirements definition, and software and data design and deployment. These issues are magnified when planning and executing strategies across business units and deployment teams. This disjointed business vocabulary results in a wide range of challenges. In this Executive Update, we explore how business architecture can help define data architecture, delivering transparency across a number of related business domains.
How Business Architecture Can Help Define Data Architecture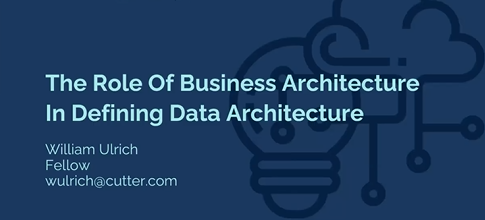 Large-Scale Transformation Program Oversight: A Sample Checklist
Too many large-scale IT transformation programs fail or fall well short of intentions. This article contains a checklist of risk mitigating considerations for those organizations engaged in eight or nine-figure transformation programs. Large-sale program success is elusive and should never be assumed. For those organizations engaged in or contemplating a major IT transformation program, this article provides an actionable checklist of factors to consider. Avoid becoming another statistic in the long list of failed IT projects and programs.
Integrating Security & Risk Management into the Cognitive Enterprise
This paper, a follow-on to "The Cognitive Enterprise", discusses the importance of integrating security and risk into the fabric of a business ecosystem as it scales. The paper outlines how business architecture serves as a basis for envisioning security and risk integration across a cognitive enterprise. Note that this paper also offers insights to any organization seeking to deploy security and risk related controls across a business ecosystem, regardless of where that organization is on the cognitive maturity curve.
Architecture-Driven Modernization: Transforming the Enterprise By Dr. Vitaly Khusidman, William Ulrich
As business models shift, IT architecture transformation requires a more sophisticated level of architectural understanding. Achieving this goal requires a deeper understanding of the architectural impacts of systems modernization and transformation. This article was first published in 2008 and is the originating source of what has become known as the "rainbow model, herein called the "horseshoe" model.
Defining the Role of Business Architecture in Shaping Software Design
Organizations struggling with unstable, hard to maintain software systems often write it off as a legacy problem. Unfortunately, new software deployments suffer many of the same scalability and interoperability issues. A major reason is that solution architects and software design teams lack holistic, formally defined, and highly rationalized business abstractions on which to base software designs and related IT deliverables. This paper, entitled "The Role of Business Architecture in Shaping Software Design", is of value to any business professional working across the strategy execution spectrum, but should be of vital interest to business architects seeking meaningful ways to engage software design, IT architecture, and solution delivery teams.
Business-Driven IT Decisions and Investments: MBA Paper & Interview with William Ulrich
This MBA paper by Alexandra Curatolo, based on an interview with William Ulrich, discusses shifting from silo-based IT investment models to horizontal investment models, the latter of which are unencumbered by the narrow business perspectives that can derail even the best business strategies. The paper contains a link to the complete audio interview so that readers may gain additional background into how to identify, decipher and address major IT challenges and related investments.
The Business Capability Map: The "Rosetta Stone" of Business/IT
Business architecture has long been envisioned as being able to inject clarity into the complex business/IT transformation puzzle. This forerunner report, written with Mike Rosen, was published prior to the adoption of formal business architecture principles. It offers an interesting historical perspective on the use of business architecture to drive IT architecture transformation and service-oriented architecture (SOA).
The Cognitive Enterprise: Envisioning the Business of the Future
The "cognitive enterprise" describes an organization that learns, adapts and scales on an evolutionary basis, expediting strategy execution and delivering operational optimization on a breakthrough scale. This paper introduces the cognitive enterprise, which calls for rethinking the nature of organizations, how they work and how they evolve. The paper provides insights into how organizations can achieve the cognitive vision.
Putting Business into Enterprise Architecture.
Enterprise architects, data architects, solution architects and business architects often work at cross-purposes, lacking a coordinated approach to delivering business value. This CIO Insight Article, written with Richard Solely, places business architecture in the broader perspective of enterprise architecture.
For most people, software modernization has come to mean technology migration that does little to affect data and application architectures in positive ways. There was a time, however, when modernization implied business-driven transformation of IT architectures using sophisticated analysis and transformation tools and techniques. This 3-part video was recorded a few years ago and tells the story from the point of view of the "software archeologist", including tales from the front and solutions to major IT challenges. The biggest change over the last decade is that many of the degrading systems from that time have reached a point of no return and cannot be salvaged. Listen in to learn about an interesting chapter in the history of IT transformation. Introduction by William Shatner. "Engage."
Ready for your new Business Adventure?